@ShrimpingIt documents Arduino-compatible projects,  runs workshops and sells kits below retail, introducing materials such as solderless breadboard for learners to prototype and deploy their own digitally-controlled devices. There's even an O'Reilly Make: book ! This site will soon be retired. Preview our new Beta website for the latest developments. Feedback welcome.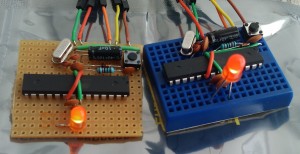 We found infamy at Hackaday and LifeHacker promoting the Shrimp – a substitute for the Arduino Uno, which can be constructed for about a tenth of the price of the official board, shown here in stripboard and breadboard versions.
The Shrimp build is central to all our example projects, several of which are now for sale as kits. For all our projects we list the constituent components, share wholesalers and prices,  so you can independently source your own in volume when you want to scale up to large numbers at school or in public workshops.
The design is binary- and pin-compatible with an Uno, so that any Arduino project can be replicated using a Shrimp. That's because there's a huge community of practitioners, prepared software, resources and project ideas which assume you are using an Arduino.
Building on the @ShrimpingIt circuit  are a number of example projects using prototyping materials, to help people get going on their maker careers. The aim is that guiding teachers, young people and novice makers through this very flexible and empowering way of working will mean they are in a much better position to cheaply and easily create their own, original, physical computing projects.
You can follow our guides without buying anything from us, worth it if you have a large group and can bag kits yourself. A getting started guide is provided at each kit page, with a list of components, costs and suppliers so you can source your own. However, we can act as a point of coordination for bulk-buying so if that's of interest, get in touch.
Grab us on Twitter @ShrimpingIt or email us if you need anything else or are just interested in collaborating on this project.
Kits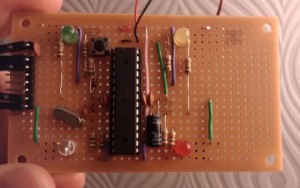 We currently have a few hundred Shrimp Kits, Memory Game Kits, Persistence of Vision Kits, Stripboard Kits, CP2102s with DTR pads and pins and 170pt and 400pt breadboards, which we were selling at twice wholesale cost at Maker Faire to help people get their hands on their first kit. See the full list of kits currently available. Happy to post any number of these out for £1 P&P.
Next projects are a two-wheeled robot, touchscreen Reversi with a two-tone LED matrix, a Steady Hands game, £8 Webserver and a Quiz buzzer kit on the same model.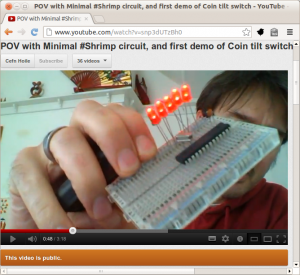 Approach and Future Directions
We have deliberately moved away from the ARDX model of 'experiments' because we believe interaction design and seeing an end-to-end integration and prototyping process for a deployed system is important to learners. So far there is no Shrimp PCB design, and this page describes why we don't think it would be useful for learners to have a PCB.
As an example of work-in-progress, we have a functioning webserver running off 3AAs, as you can see below. This kit can be put together from a bag of bits for less than £8 total cost, including both the cost of the #Shrimp and the cost of the Arduino-compatible Ethernet shield .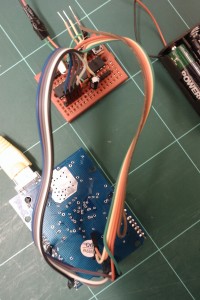 Morecambe and Local Makers
The Shrimp circuit was originally designed specifically for workshopping with Morecambe makers, but is already popular and influential in the wider community. Guidance for local schools is being actively worked on.
Thanks to Madlab We have a number of free Shrimps available to give away to anyone in Morecambe who is in need. For waged participants, a kit of components to make a Shrimp on stripboard is available from Cefn Hoile for £2.
A USB module  to program the board is available for a returnable deposit of £2. Solderless breadboards for prototyping and testing are available for a returnable deposit of £3. Laptops to learn programming can be made available in workshops and loaned out for projects.
If you need anything to support your own workshopping, then
get in touch
.